Be First, Faster, with Starting Block SEO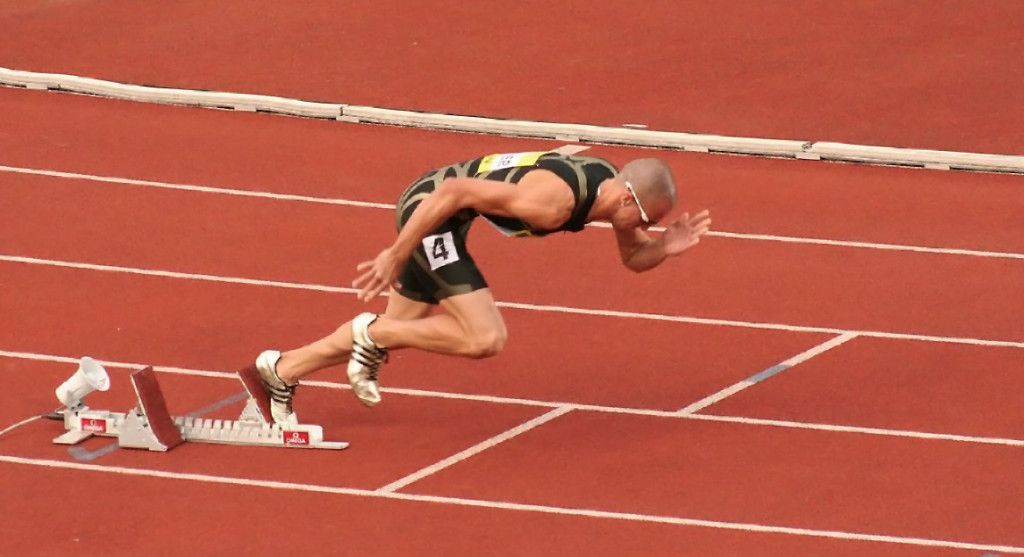 Every company wants to be first in Google search results, or at least somewhere on the first page of the relevant search engine results page (SERP). Few understand that this top search engine positioning requires a multi-track strategy that ideally should be implemented before you ever launch your new website. We've called this key initiative "Starting Block SEO Strategy".
Metaphorically speaking, let's consider the Olympic sprinter in the photo. He had to dedicate respectable time and effort to build up his strength and endurance, but also to refine his his victory stratagem. Delaying the important work of refining his win tactics would have hampered this runner's career as well as his chances of moving ahead into world class competition. Staying ahead in the sport and achieving these big wins requires key tactics, one of them being to start off correctly from the starting blocks. These champion runners certainly didn't just begin trying out their starting block strategy right at the beginning of their big race! They trained, practiced and tested their win strategies, including all the starting block technicalities, well ahead, to assure a good start and the best race possible.
Relating this principle to your website gaining top positions in the search engines, it is always easier to achieve those page 1 search engine rankings and get there sooner if your web developer works on the SEO objectives considerably before the launch of your website.  This approach will make it easier for your domain to be found sooner in web searches, and you'll see a quicker return on your website investment.
That said, it's still never too late to start a Search Engine Optimization program if you don't have SEO strategies working for you.  If your website is not showing up consistently on or near the top in  Google®, Bing®, DuckDuckGo ®, StartPage ®, Yahoo®, etc., with the typical web searches of your target audience, then we can help. To get started, contact us by e-mail.
To summarize: We start working on SEO before the coding and design  work is commenced, and then continue to optimize your website within proactive, multiple strength strategies from the very beginning of website coding, through to post-launch. Then we show you how to maintain your website's search optimization.
---
Photo source and copyrights:
http://en.wikipedia.org/wiki/Sprint_(running)#mediaviewer/File:Start_Jeremy_Wariner_2007.jpg
by Phil McElhinney athttp://flickr.com/photos/79119169@N00/1000986005. It was reviewed on 31 August 2008 by the FlickreviewR robot and was confirmed to be licensed under the terms of the cc-by-sa-2.0.