SEO Web Design and Development, Vancouver BC, Fraser Valley and beyond…
At Forward Web Solutions, we offer SEO-focused web design and development with a keen eye on your forward-thinking marketing goals, and your success.  With this mission in mind, our services include search engine optimized custom web designs with user-friendly content management systems (CMS) built on security-configured WordPress, which is the world's most solid and powerful CMS platform. A website we build for you will greatly empower you as a web content editor.  Our specialty is Responsive WordPress custom web design and development, with search engine optimization (SEO) prioritized from the very start at the composition of your page content. We also do Mobile-First web design for clients whose audiences primarily use mobile phones to find services and products on the web. Overall, our specialties help your web marketing move forward faster.
We serve across British Columbia within the sectors of SME (small to medium sized enterprises), artists, writers, music producers, musicians, bands and entrepreneurs.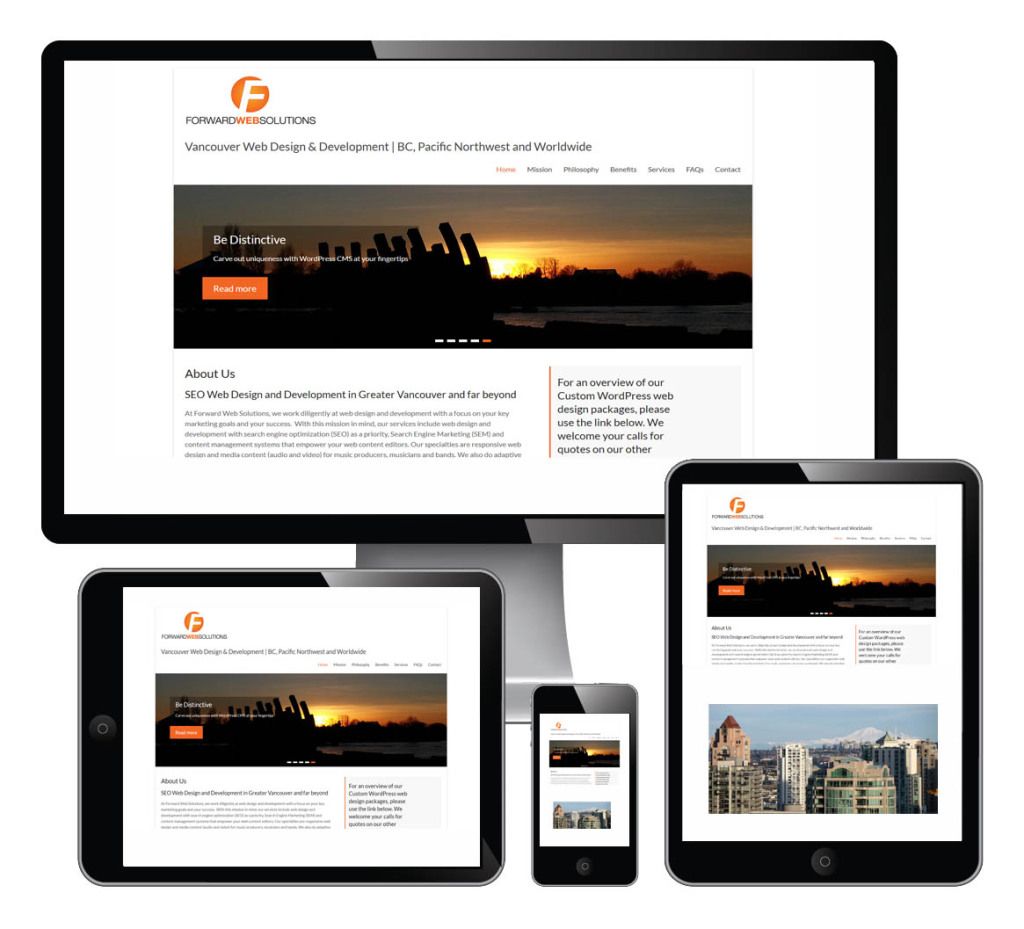 Search Engine Marketing (SEM), e-Commerce web development and WordPress tutoring are our other key specialties. Our tutoring is for our clients who wish to gain better skills in the use of the WordPress sites we build for them. Due to WordPress being the superior content management system in use for Content Management System (CMS) websites, one or two tutoring sessions can greatly enhance your web marketing. After we launch your new custom WordPress website, we teach you how to update your content effectively so you can get your latest messages out to your audiences. With your new skills in WordPress content management, you will be able to add and resize photos, add songs to music players, embed YouTube videos, and more.
As well, we provide copy editing services for spell-correction and good English grammatical usage in your text content. This can make or break your success in marketing on the internet.
For more details on what we do and how we work, please see our Services page.
Also read our blog articles and Benefits page for information on our suite of web design and development services and how they can help move your business or artistic endeavors forward with effective web marketing. For more information, call us at 604-787-4580 or  contact us by email.